About Gormenghast
In July of 2001, Lynda and I looked at three properties for sale in the Bruce Peninsula.
One was 99 acres of bush, completely undeveloped, but with lots of scope. I dubbed this property "the big one".
Another property we looked at was somewhat smaller, but it had a well, hydro, a small "bunkie" and various other conveniences. This I came to refer to as "the one with the Gilligan's Island shower".
The third one (actually the first we looked at) was a mere 3.6 acres of dense impenetrable brush clinging to an inch or two of topsoil, except where jagged rocky crevasses split the exposed rock. There are caves, possibly harboring wolverines. This one, "the Draper place" as Lynda (and Myrna, our agent) called it, or "the cheap one" as I called it, was the one we decided to buy.
"Why" you ask? Well, it was after all "the cheap one", and that allowed us to spend the money gradually, to develop the property at our own pace and in our own way. While the attraction of a "ready to move in" property had some practical appeal to me, and despite the daunting topography of "the cheap one" (or perhaps because of it) we eventually decided that the Draper place was a better fit for our budget and for our sense of adventure.
Perhaps to calm my lingering reservations and engage me in the process, Lynda allowed me the honour of naming this quirky, jagged little microcosm. I decided very quickly on "Gormenghast", the title of the second novel of Mervyn Peake's 1940's trilogy (Titus Groan, Gormenghast, Titus Alone), because of its own quirky, jagged, microcosmic nature. I am now Lord Sepulchrave, Earl of Groan, and Lynda is the Countess Gertrude.
We are Bruce Peninsula land barons.
---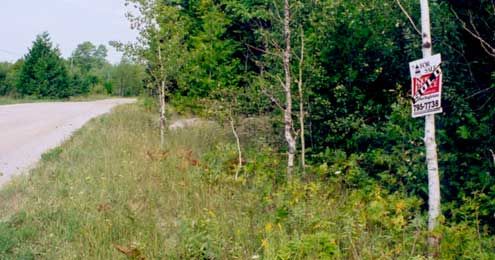 SOLD!