Saturday May 20, 2000
click any image to enlarge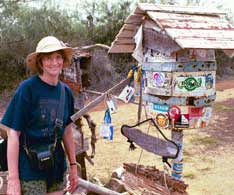 This morning, the wet landing is at Post Office Bay. The whalers established this location for the unofficial distribution of mail. The idea is that you would leave your mail in the box, and check for any mail that was destined for your own place of origin. If there was any, you would take it with you and deliver it when you got home.
The tradition is mostly for the tourists now, but the notion is strangely appealing. I take charge of the lone Canadian item in the box, a postcard for Jeff in Cornwall (Happy Birthday Jeff). Modernizing the tradition a tad, we find a small clear spot on the message- and sticker-covered structure to record our names and e-mail addresses for posterity.
We've been seeing hermit crabs at most of the beaches we've visited, but here for some reason there are more than ever, and bigger than we've seen so far. And never two with the same kind of shell.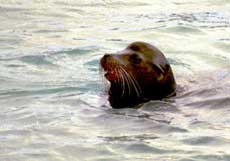 Prior to landing, we are entertained by some of the liveliest sea lions we've seen all week. A large bull aggressively guards the first beach we approach, and the panga respectfully backs off. We are subsequently followed by a several of the best cavorters and frolickers in the whole damn archipelago. Cove after bay after inlet, they follow our every move, cavorting and frolicking just out of reach. I make "nice doggy" noises for the benefit of Nancy's video soundtrack.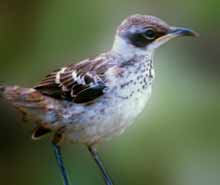 In the afternoon we are back at Puerto Ayora for our last shore trip (big sigh). We board a bus and are off to the Santa Cruz Highlands in search of the elusive Vermilion Flycatcher. As Nancy points the video camera at the various birds, I make fake mockingbird noises in the background, once again just helping out for the soundtrack.


The main attractions of this excursion — despite the alleged Flycatcher we spot — are geological. Collapsed volcanic structures formed large craters whose edges we skirt. A light rain falls as we are now in the clouds we have been seeing all week, hugging the tops of all the highlands. We clamber down inside a lava tube and try to imagine molten rock rushing through it.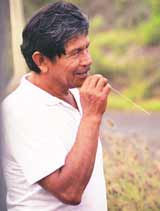 For his last official act as our guide, the ever vigilant Christian points out a local man chewing on a piece of straw. He asks if we know the film star Charles Bronson. This man is his exact double. Good eye, Christian!
Back on the ship, the Boobies gather after dinner in the main bar for a last drink or two. Nobody wants to leave. I keep saying it over and over, I don't want to leave. But tomorrow, we do leave.