This we know, the earth does not belong to man, man belongs to earth. All things are connected like the blood which connects us all. Man did not weave the web of life, he is merely a strand in it. Whatever he does to the web, he does to himself.

- Chief Seattle
Day 1: Sunday May 14, 2000
click any image to enlarge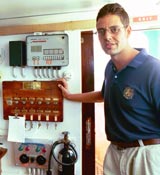 Our first day in the Galapagos Islands is sunny and warm, a welcome and anticipated change from the gray drizzle of Quito. Travel-numb and sleep deprived, we cast our eyes about the small airport in search of our Marine Expeditions contact. Not to worry, Paul finds us in no time (he later claims to enjoy great success in picking out the Marine Expeditions people from the crowd).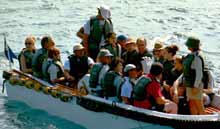 A small bus soon transports us to dockside, where we get our first glimpses of some of the species we have come to see; boobies, frigate birds and pelicans in particular are diving, soaring or just hanging out on the pier. In short order we board the traditional panga—a flat-bottomed outboard-driven dinghy that seats about twelve people—for the ride to the ship which is at anchor well out from shore. Exiting the panga onto the fragile-looking but sturdy staircase descending from amidships proves an awkward but manageable maneuver, and one we would master in the days to come.

Finding our luggage waiting for us in our cabins, we exchange long sleeves for short. We have our first briefing in the main bar, hear about wet landings vs. dry landings (today's is to be dry) and are introduced to the park rules. It all still seems a little academic at this point, but as we enjoy the buffet lunch, the ship is making for North Seymour Island, our first landing, where the academic will be made real.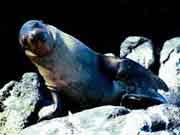 Waiting for us on shore, a lone sea lion poses perfectly as the panga nudges up to the landing site. Brilliant orange Sally Lightfoot crabs are everywhere on the shore rocks. Cameras come out of cases and get busy. A few steps from shore we see our first "up close and personal" blue-footed booby, on a meager nest surrounded by the trademark guano ring. She is about two feet tall, and sits unconcerned as we approach and practically surround her. Cameras get busier still.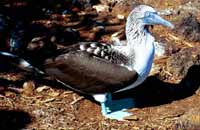 These remarkable boobies are everywhere during this surreal first shore visit. We learn the difference between the male's call (a whistle) and the female's (a honk) and get a full display of the legendary booby mating dance: bright blue feet raised one at a time into the air, wings and tail arched skywards, and finally the ceremonial passing of the twig. Seen so close, these birds seem completely different from the dramatic skydiving flyers we'd seen from the pier. Not just bigger, but with real personalities.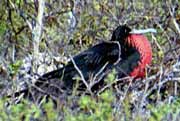 We are also treated to the sight of nesting frigate birds. These are high-gliding pterodactyl like birds that build their nests in the small trees, unlike the ground-nesting boobies. A few are in full display, their bright red neck membranes fully extended in a big balloon, trying to look sexy. Both marine and land iguanas are also spotted.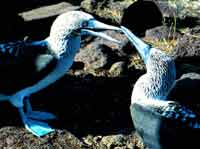 But it is the boobies who win our hearts, even though they are so plentiful that by the end of the walk we are pretending to be as nonchalant to their presence as they are to ours. Though we would see many boobies through the week, this would be our best view of their nesting behaviors. It is a perfect introduction to the Islas Encantadas, the Enchanted Islands.
Day 1 (recap)
11:00
arrival from airport
11:45
briefing on shop's facilities
12:30
buffet lunch
14:15

briefing on National Park regulations
briefing on North Seymour Island
fire drill

15:30
North Seymour Island - dry landing
18:00
return to ship
19:30
briefing on tomorrow's visits to San Cristobal Island (Cerro Brujo) and Espanola Island (Punta Sere)
20:00
welcome cocktail at the main bar, presentation of captain, officers, crew and guides, followed by dinner in the dining room
21:30
live music and dancing (or off to bed)
---
As featured on The Cruise Line website and MySummerVacation.com.
This site is not affiliated with Marine Expeditions, which has gone out of business.
All contents copyright © 2000 Robert George Daniel, all rights reserved.